I've seen the question being thrown around here recently, especially since tomei brought out their poncams for the VVTi 1JZ-GTE...
And you all know the Question... "Are Cams worth it?"
I guess it all depends on what you are after.
I my self am not going to debate it here...
But I guess you guys can have a look at my results and make your mind up from them.
and debate them more...
Ok so as you may already know I had engine trouble and got a replacement motor.
Had Tomei cams that where waiting in the wings to be installed which they where.
Pulled out the sad motor & found my turbo had died, so organised a Hypergear high-flow.
Got all of installed and happy days...
Well... not exactly...
After what seemed to be only a few weeks actually 5 weeks 3 days... this happened
So yep... Tomei has failed me once more... not to mention they want me to pay for the shipping of the faulty component.
To give you a time frame the tune with cams was on 7th July 2014 the night they broke 21st August 2014...
So 5 weeks 3 days... and wasn't getting driven every day...
Can I say a big thank you to Simo and Choonga for rescuing me, my car and my friends who where with me at the time...
So again thanks to Simo of 612 Autoworks the car is up and running and doing fine with stock cams..
Ok Dyno Graph time...
Hypergear ct15b gt30 High-Flow + stock cams - Red curve
Hypergear ct15b gt30 High-Flow + Tomei cams -Blue curve
Boost Curve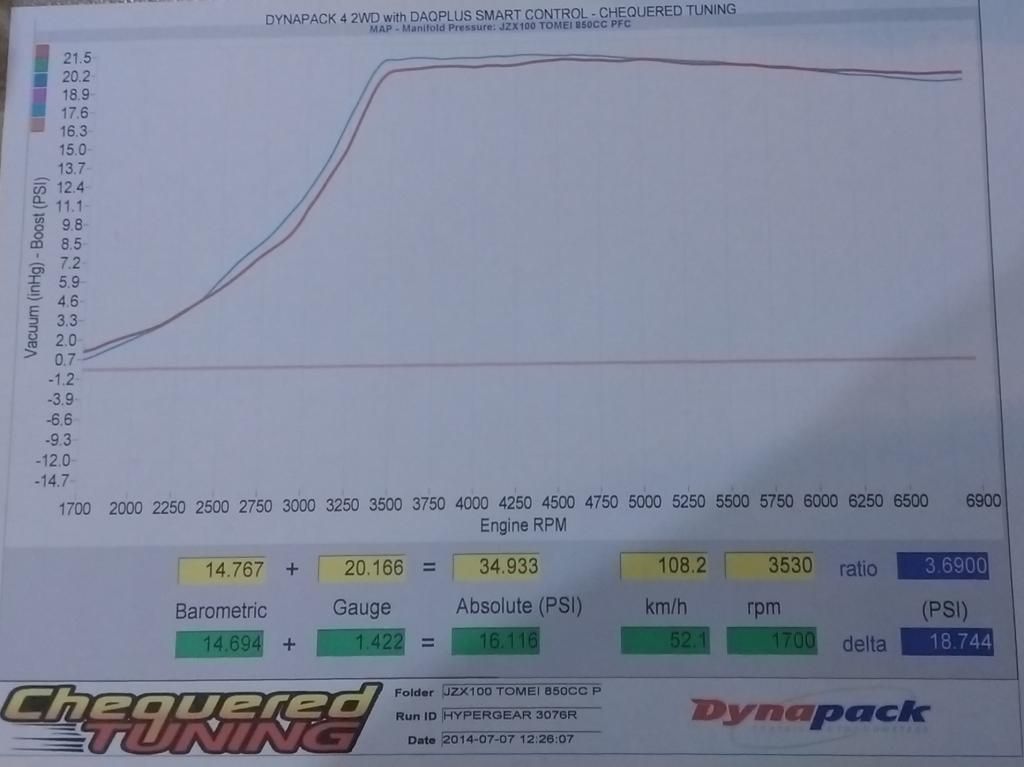 So the breakdown is as follows
Hypergear ct15b gt30 High-Flow + Tomei cams
Peak Power: 278rhkw @ 6463rpm
Peak Torque: 510Nm @ 3495rpm
Peak Boost: 20psi @ 3449rpm
Hypergear ct15b gt30 High-Flow + stock cams
Peak Power: 270rhkw @ 6620RPM
Peak Torque: 486.2Nm @ 4043RPM
Peak Boost: 20psi @ 3530rpm
So tomei cams Vs Stock looks kinda like this
power gain: 8rhkw coming in @ 157rpm sooner
torque gain: 24Nm coming in @ 548rpm sooner
boost response: 20psi coming in @ 81rpm sooner
But over all there is a healthy gain over the whole rev range when looking at the graphs.
Boost and torque could of been adjusted to come in even earlier by retarding the timing on the exhaust side but as Trent said that would be like robbing Peter to pay Paul as top end power would suffer...
Seat of the pants driving is different, boost doesn't come on as hard and the engine doesn't seem as angry.. cant really say much more since is been so long since having the tomei cams in.
I must say thought that the car feels better on take off with stock cams, not sure why but the Tomei cams, made the car feel like it need a little bit of a push of the line... or it could just be that I'm a shit driver...
So at the end of that is it really worth it???
Well for me no, as all the Tomei products I've bought have basically been binned...
Ok, Talk, discuss at will...
Oh and admins if you think it's worthy to be pinned/stickyed, please do so...